In-store Inventory to Fulfill Online Orders: Vineyard Vines
Our Marketing Development Manager, Janna, recently placed an online order with the clothing and accessory retailer Vineyard Vines. When her order arrived via shipment, a personal note was included in the packaging: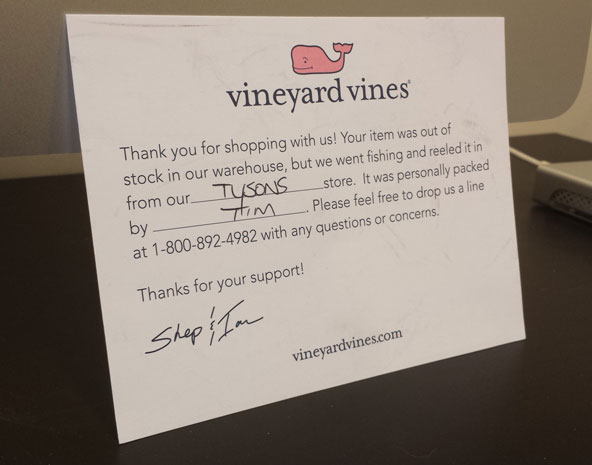 As you can see, the ordered item was out of stock in the Vineyard Vines fulfillment warehouse, however it was available at a nearby retail location. This is a great example of a retailer leveraging one sales channel to support another. Cross-channel inventory management is an important part of multichannel retail today. Forrester reports that 71% of consumers expect to view in-store inventory online, while 50% expect to buy online and pick up in-store. Maintaining synchronized inventory across multiple suppliers, warehouses and retail locations is a challenge to any retailer, but the right eCommerce management software solution can help. We especially like the personal touch that Vineyard Vines put into this order fulfillment with a note from Tim, the store staff person who packed it. As Bryan Kramer wrote earlier this year, the terms B2B and B2C may be replaced by H2H, or Human to Human marketing, as eCommerce becomes increasingly more focused on the customer's experience.